NOQA – Nordic Quality Assurance
Nordic Quality Assurance Network in Higher Education (NOQA) is a forum for information dissemination, exchanging experiences and pursuing projects of mutual interest. The main objective is to create a joint understanding of different Nordic viewpoints on issues related to higher education quality assurance.
NOQA has been established by the five Nordic countries and their respective national organisations engaged in evaluation and quality assurance of higher education.
Links to the Nordic Agencies: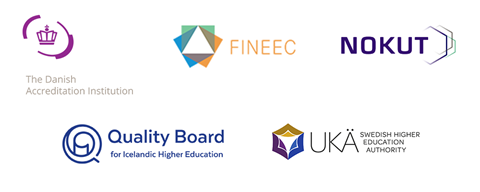 The national organisations have convened annually since 1992 to exchange experiences and discuss recent developments in evaluation and quality assurance of higher education. In 2003, the annual meeting officially formalised the co-operation as the Nordic Quality Assurance Network in Higher Education (NOQA).
Annual meetings

NOQA member countries have convened once a year to annual meetings where recent developments of quality assurance activities in each country and internationally have been discussed. The annual meetings rotate between the member countries. The country who arranges the annual meeting acts as an official representative of the network and chairs the network. Each term for chairing begins one year before hosting the annual meeting at which next chairing country and agency will take over. Every second year NOQA also invites the national quality assurance agencies from the Baltic states to join the meetings.
Annual meeting 2023: Holbæk/Denmark, September 11.–12.
Joint projects
An important form of the collaboration is joint projects; the Nordic agencies have worked together on several projects. The network's annual meeting decides on the new joint projects and on their implementation. The projects have been significant in terms of learning from each other and enhancing co-operation between the organisations. All the projects have been published as reports.
Similar cultural backgrounds and mutual understanding regarding quality assurance approaches have naturally helped in building fruitful co-operation and later a network. However, even with all the similarities, differences exist. One reason for the divergence is that the Nordic countries have different approaches to evaluation of quality in higher education and that they have different authorisation from their governments. The joint projects have been a rewarding way of forming a dialogue to try to understand these differences and reasons behind the convergence and non-convergence.
Most of the members of the network are also members of the European Association for Quality Assurance in Higher Education (ENQA).
Annual meetings
Publications