Strategy for the development of NOKUT 2020–2025
Since its establishment in 2003, NOKUT has helped ensure quality and build trust in Norwegian higher education. As we celebrate our 20th anniversary, we are setting out our plan for how we will continue to ensure and enhance quality in Norwegian higher education and tertiary vocational education in the years to come.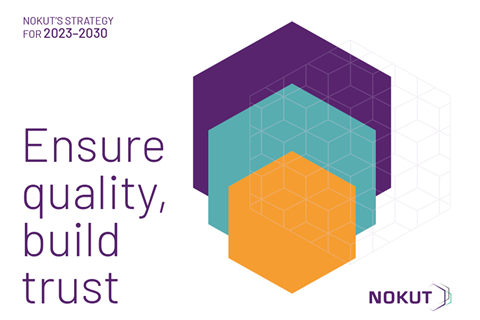 In the winter of 2021, the Ministry of Education and Research announced structural changes in the knowledge sector. In the process that followed, seven underlying bodies were merged into three, two of which were new: Sikt (Norwegian Agency for Shared Services in Education and Research) and the Directorate for Higher Education and Skills. NOKUT remained but our portfolio of responsibilities was revised. As of 1 January 2023, NOKUT's responsibilities related to recognition of foreign education was transferred to the Directorate for Higher Education and Skills. NOKUT's responsibilities therefore became focused primarily on Norwegian higher education and tertiary vocational education. The development of a new strategy was a natural consequence of this change.
Read the entire preface

The strategy consists of four objectives, and these will inform our work for the duration of the strategy period. Overall, the objectives are intended to make sure that NOKUT ensures quality, thereby contributing to the public's trust that the country's vocational colleges, university colleges and universities provide their students with a high-quality education. The title of the strategy reflects this: NOKUT 2030: Ensure quality, build trust.

NOKUT's external quality assurance activities shall be impactful and encourage development. A consistent feature of the strategy is that the activities should be tailored to ensure that the educational institutions find them useful for their own quality work. The underlying principle is that accountability and enhancement are seamlessly linked. This means that NOKUT will remain a provider of knowledge on the level of quality in Norwegian higher education and tertiary vocational education, as well as a driving force for quality in education.

This strategy defines NOKUT's ambition to be a leading quality assurance agency in an international context. Our work is based on the Standards and Guidelines for Quality Assurance in the European Higher Education Area (ESG). Through participation in associations for quality assurance organisations, NOKUT closely monitors the development of quality assurance internationally, and will contribute to this development.

NOKUT shall be a learning, listening and development-oriented organization. This means that our measures must be adjusted to meet society's needs, and our services must adapt and develop in dialogue with our key stakeholders. In addition, as a workplace NOKUT shall inclusive towards staff and open to new methods and processes, in order to perform its tasks effectively and to a high level of quality. The strategy is endorsed by NOKUT's management and board. In developing this strategy, we have received valuable insights from educational institutions, student organizations, employer organizations, trade unions and other stakeholders. We greatly appreciate these insights. Some have been included in the strategy, while others will be applied in the development of our organization and services.

Oslo, January 2023

Lise Iversen Kulbrandstad | Board Chair

Kristin Vinje | Chief Executive

---
NOKUT's social mandate
NOKUT's responsibilities as an independent administrative body are
accreditation and supervision of educational programmes, fields, and institutions
supervision of the institutions' systematic quality work
evaluation of quality in education
assisting the institutions in their quality work and promoting quality enhancement
NOKUT's responsibilities as delegated by the Ministry of Education and Research include
regulatory administration
national surveys and exams
financial supervision of private institutions and student unions, as well as review activities at state institutions and enterprises
NOKUT's objectives
NOKUT has four overall objectives for this strategic period. The first three describe what NOKUT wants to contribute – to educational institutions as well as to society in general. The fourth describes the kind of organization NOKUT strives to be to achieve the first three goals.
NOKUT's objectives are in line with the sector objectives for higher education and tertiary vocational education, as set out by the Ministry of Education and Research. They are also in line with the UN's Sustainable Development Goal No. 4, which is to ensure inclusive and equitable quality education and promote lifelong learning opportunities for all.
The institutions themselves are responsible for managing their academic authorizations and for ensuring and enhancing the quality of the education they offer. The Norwegian system for higher education and tertiary vocational education shows great trust in educational institutions and grants them broad academic authorizations. In return, the institutions must demonstrate that they are worthy of this trust.
In NOKUT's external quality assurance activities we want to support the educational institutions in their quality work, stimulating a quality culture of high international standards in all study programmes.
Together, the institutions and NOKUT strive to ensure that the institutions, scientific communities, students, authorities, and the public are well informed of, and can trust in, the quality of Norwegian higher education and tertiary vocational education. This requires that educational programmes have adequate resources, and that knowledge and activities for quality assurance are used in a way that is transparent, effective, and useful for society.
NOKUT's Strategy for 2023–2030 (pdf)